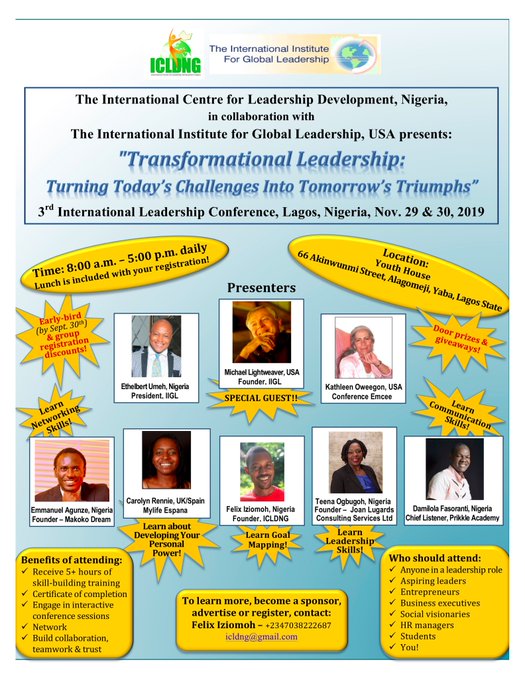 REGISTRATION OPENS FOR IIGL/ICLD LEADERSHIP CONFERENCE IN NIGERIA
The 2019 International Centre for Leadership Development Nigeria (ICLD) in collaboration with International Institute for Global Leadership, USA (IIGL, USA) Conference Committee is excited to announce our 3rd Leadership Conference scheduled to hold in Lagos, Nigeria in November 29th and 30th, 2019
IIGL, USA is a nonprofit organization that trains change makers around the world; currently we have students from 34 countries in 6 continents. In this conference, we are having the distinct pleasure of having IIGL founder, Michael Lightweaver, joining us as special guest presenter amongst others.
The primary mission of IIGL is
to provide a tuition-free education to individuals who wish to become high-integrity, heart-centered and conscious leaders in their communities and the world.
Our curriculum is uniquely designed to provide our students with the consciousness and skills to wisely and peacefully lead others in creating positive change wherever it is needed. The study program is available to participants of any age anywhere in the world.
Our Nigerian partner, International Centre for Leadership Development's vision is to be the foremost centre for developing highly self-motivated, proactive, effective and high integrity leaders who will foster impact and positive change in the society.
The theme of this conference is:
"Transformational Leadership: Turning Today's Challenges Into Tomorrow's Triumphs
"
.
We have confirmed line-up of experienced presenters/facilitators who will provide engaging, highly interactive skill-building presentations that align with our conference theme and foster wise leadership.
Presenters come from a diverse range of leadership positions: founders, program directors, diplomats, social visionaries, leadership consultants, scholars, and change makers. We are planning for highly interactive workshop-type presentations that will engage the participation of attendees. Presenters are coming from United States of America, United Kingdom, Spain and Nigeria.
This exciting conference is exclusively designed to inspire, and engage 100 participants who are currently in any kind of leadership role and/ or emerging leaders and young professionals, Top Business executives, High net worth individuals, entrepreneurs, social visionaries, founders of nonprofits, Human Resource managers, conflict resolution practitioners, students and You.
The benefits of attending this world class leadership training are multiple. Participants will learn about developing their leadership capacity, communication skills, 21st century leadership skills, goal mapping, transformational leadership, leveraging networking opportunities etc.
Highlights of the conference include door prizes and giveaways, insightful and practical presentations, keynote presentation, panel discussions, award ceremonies and networking sessions.
Participants will engage in interactive conference sessions, build collaboration network, receive hours of skill building training a plus certification of completion. Come and learn the skills that will scale you to the GLOBAL STAGE.
For partnership, sponsorship and enquiries, contact Ethelbert Umeh, President IIGL, USA at
ethelumeh2011@gmail.com
and Felix Iziomoh, Executive Director, ICLD and Nigerian coordinator IIGL, USA
flelixi@aol.com
We look forward to your excellent participation.