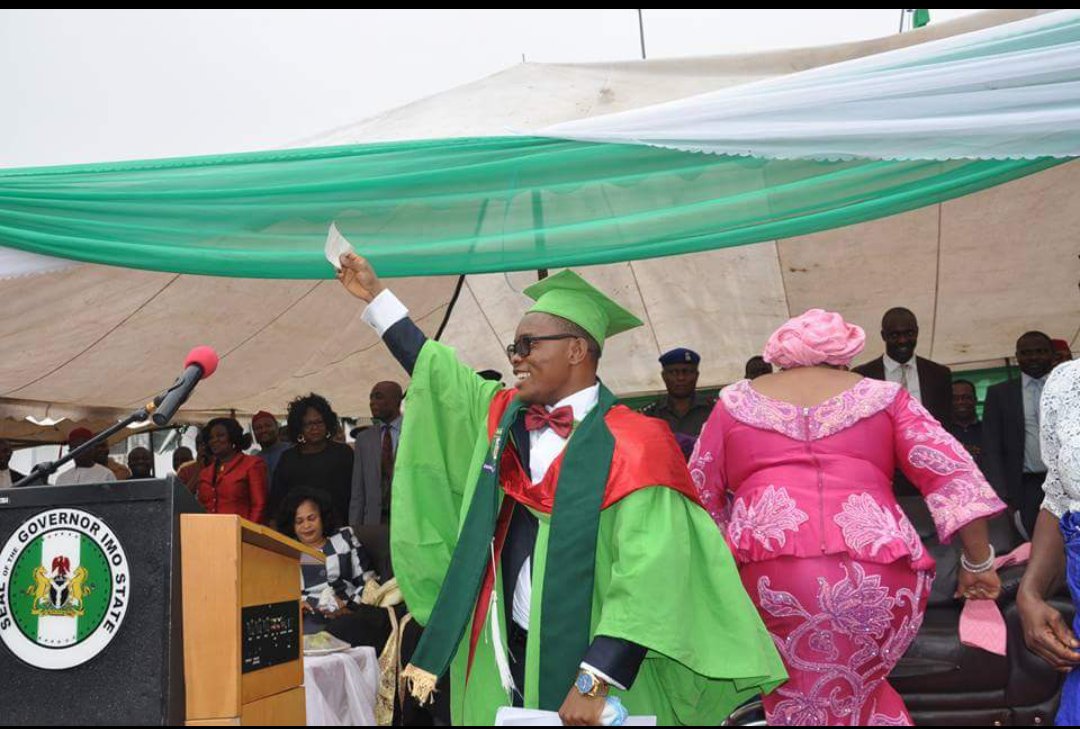 I had an exclusive media chat with Chigozie Ekenze, who was the overall best graduating student at the 7th Convocation Ceremony of Imo State University, Owerri. His life is filled with inspirations and that is why we have selected him to be the personality of the month.
He spoke on a wide range of issues, ranging from Rochas Okorocha
the governor, how he almost dropped out of school, how he lost his dad at a young age, his girlfriends, dreams in life and other sundry issues.
How did you emerge the overall best graduating student?
I was adjudged the overall best graduating student by virtue of the fact I had the highest final CGPA (4.71) for academic sessions (2009-2015) that did their convocation.
At what point in your life did it occur to you that you would be overall best graduating student?
I knew about it 2days to the convocation. The university informed me through the HOD of Optometry department. I never envisaged being the overall best in the school but I have always believed I could be best in my department. So, throughout school I just focused on excellence in all my courses.
In your valedictory speech you said, you almost dropped out of school. Throw more light on this.
Yes, I almost dropped out of school because I couldn't afford my hostel rent, school fees, textbooks etc. I lost my Dad who happened to be the breadwinner of the family and my only sponsor. It wasn't easy for me after his demise but I thank God who saw me through school.
Were you a beneficiary of Rochas Free education policy?
Yes, his free education was real. I am a great beneficiary likewise other thousands of Imolites.
Did you receive any gift for being the overall best graduating student? If yes, from who?
Yes. I had lots of gifts/awards. First was the VC's prize, cash gifts from Hon Chike Okafor, Hon Omeghara, Hon.Uche Nwosu, Chief of Staff, IMO state govt, The executive governor of Niger State, IMO state government offered me 100% scholarship to do my masters in any country of my choice, automatic employment as a lecturer in IMO state university and a cash award of #1M
illion naira.
We learnt the governor and Chancellor were there at the convocation. How did they feel about your academic prowess?
The governor was proud of my achievement and more so because his free and compulsory education programme in the university made it possible I didn't drop out of school. The Chancellor on his part could not hide his excitement and love for excellence as he announced his donation of a brand new car to me. I thank God for them. God will bless them for me.
What were the factors that worked for you during your undergraduate studies?
Time management, discipline and dedication to duty

.
In your recent interview with Punch, you said you want to be a Professor on or before the age of 40. What efforts are you making towards that?
Yeah, that's a goal. I intend to go for my masters immediately and then PhD. After that we see what happens. I pray God help me actualize it.
Have you started using the car now?
No. I am still learning driving.
Why did you study optometry?
Optometry is a very nice profession. Though I didn't know much about the course prior to my admission but the experience has been quite fulfilling. I have always had passion for helping people who need help. Optometrist practice provides one of such platforms.
Is this course giving you the fulfilment you have always desired?
Tell us something you love most about Optometry
The practice is quite simple so it gives you time for other activities.
Can you differentiate between an optometrist and optician?
Dispensing Opticianry is a sister profession to Optometry but they are clearly distinct. Whereas optometrists are primary health care practitioners of the eyes and vision care, opticians are professionals who specialize in the manufacture of lenses and other optical devices. Optometrists make order for optical devices fabricated by opticians to treat patients with oculovisual complaints
.
Did your experience in primary and post-primary schools sharpen you for tertiary academic study?
Yes of course. Strong academic foundation was laid in primary school; it germinated in secondary school, and reached its zenith in the University.
How sociable were you in school?
I was very social. I got on well with colleagues. But I never allowed youthful exuberance to take toll on me.
Did you experience advances from ladies?
How did you handle them if any?
I had female friends. In fact
, my best friends are ladies. I analyze every situation and go for what is best for me.
Apart from optometric activities, what else can you do?
I am an entrepreneur/investor and a footballer
.
Tell us about him. What kind of man was your father?
Mr Cyprian Ekenze. Only child of his parents, never knew his dad, lost his mum at a very tender age. Never had the opportunity to attend school but was such an intelligent man who excelled in his chosen career. Very contented with the little he had, very hardworking, lover of excellence and very kind
.
Can you remember any craziest thing you have done?
Watching a football match at the expense of a class test
Kindly advice the younger generation who look up to you?
Aim to achieve the best in whatever you do, always set a goal and draw out an action plan, be committed to what you do, use your time wisely, always remember your family background and be yourself always, and finally PUT GOD FIRST IN WHATEVER ENDEAVOR.
Thanks

.