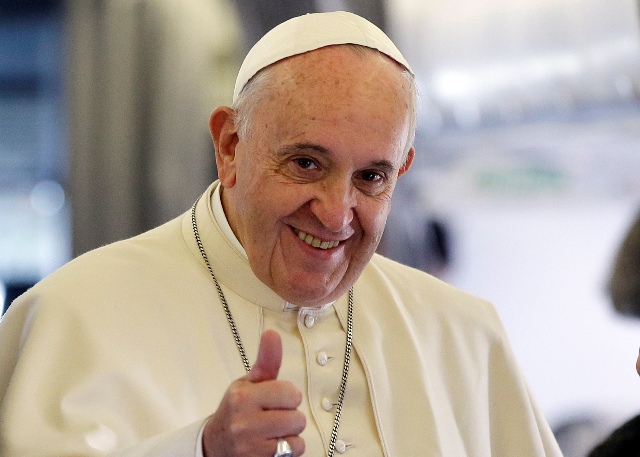 In more than two years reign as the supreme Pontiff, Pope Francis has made some provocative yet inspiring quotes every Christian should know and live by.
He is not just a pope for the 1.2 Billion Catholics all over
the world, but for everyone. He is a wise teacher; he has been able to air his views on varied issues of human relevance.
He has been able to touch lives through his inspirational homilies, speeches, teachings, messages, his recent encyclical on climate change and tweets- his twitter has over 20 million followers. He has also bared his mind on homosexuality, divorce, marriage, poverty and role of women in the ecclesia community.
Below are top 10 inspiring quotes from him:
1.
'Hatred is not to be carried in the name of God! War is not to be waged in the name of God'
2.
'Women in the church are more important than Bishops and priests'
3.
'I see clearly that the thing the church needs most today is the ability to heal wounds and to warm the hearts of the faithful...i see the church as a field hospital after battle'
4.
'I believe in God, not in a catholic God, there is no Catholic God, there is God and i believe in Jesus Christ, His incarnation'
5.
'Perhaps you were mad... but please remember this: never let the sun goes down without making Peace! Never, never, never'
6.
Wretched are those who are vindictive and spiteful'
7.
God is not a divine being or a magician, but the creator who brought everything to life'
8.
'When we see a holy people of God that is humble, whose wealth is in its faith in the Lord, in its trust in the Lord, they are the ones who are saved'
9.
' the confessional is not a torture chamber, but the place in which the Lord's mercy motivates us to do better'
10.
'Each of us has a vision of good and of evil. We have to encourage people to move towards what they think is good...everyone has his own idea of good and evil and must chose to follow the good and fight evil as he conceives them. That would be enough to make the world a better place'
I love these quotes with passion. They motivate me to do better. Do you know more inspiring quotes from this great and down-to-earth pontiff; don't fail to share with us!